Toy Claw Arcade Level Game
Toy Claw Arcade Level Game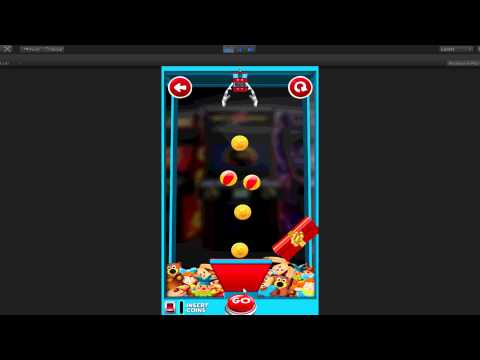 Hey Guys,
Here is a quick little project for you to add in your portfolio.
The little puzzle game based on the TOY CLAW arcade theme, which kids area crazy about.
This game is targeted towards kids, and has about 20 levels.

You can always increase the number of levels and make them more complicated and tougher.
We have personally had good results with Kids codes in the past, and simple games like these could be a great investment.
Here are some of the features of this code:
20 Levels
Multiple Elements in Levels: The game has elements like Magnet, Static Balls, Moveable Boxes to make the levels interesting
Star Rating: 3 Star rating to be achieved after every level
Interactive Menu Screen
Made with Unity Free: You do NOT need PRO license for this code.
Android + IOS : Simply switch the code to either Android or IOS and all related plugins would get active
Multi Device and Multi Platform: Since the game has been made in Unity, you can upload it on all App Stores Unity Supports. Also the gameplay has been tested on Android/ Apple Phone Devices and Tablets.
Free Royalty free music included: Music can be re-used as it is free for commercial use and distribution.
Easy to Reskin: Change to any theme you wish easily by simply changing the 2D images.
Rating Pop Up: Smart Rating pop up to promote higher ratings by users.
Coded in C#
64 Bit Compatible
The project works well on Unity 5
Important:
1) Graphics are watermarked
2) Tutorial Files included
The documentation is included with project to ease out the process of reskin.
Customer Reviews
Jacob
"Developer Reponds late"
Had to email the developer 3 times before getting a reply.
Broderick Carroll
"Like it"
Its a good game multiple level,easy reskinning, easy implementations of ad networks, worked fine on both IOS and Andriod
Latisha Witt
"Good gameplay"
well thought, well developed gameplay with multiple level. keeps user interested and busy,, hence makes it successful :)
Chantal Hebert
"good buy "
good support, bug free code at a very decent price
Raekwon Phelps
"Concept"
more than 20 levels in the game, gives you more options for reskinning
Sterling Gentry
"Awesomeness "
Awesome code, let your designer to do the graphics changes in it.. make it more exciting and start earning :) :) :)
Irma Reese
"well supported "
backend support from the developer was good, reskined the graphics easily myself.. looks good now
April Garza
"A classic "
launched it with my other games, running successfully
David Underwood
"Decent Gameplay"
Was my first game so went with this code. Outsourced the designing to a freelancer who was able to change the design to a political theme, and it turned our pretty funny.
Aman
"Had a successful launch with this one"
Really simple code and worked well with the kids niche I was working on. I was able to add upto 100+ levels, so code is no problem and is commented by the developer.
Cameron Morris
"Not a good code "
Lacks interface quality, errors in between
Evan Cole
"Good stuff "
Reskin easily done, performs well on iOS