Tank Wars Projectile Game
Tank Wars Projectile Game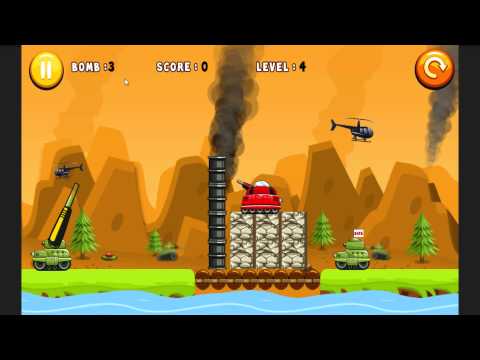 Here is a little project to help you if you are making a projectile game just like angry birds.
We used the Tank Theme for this project but it can always be any theme that you want.
These kind of small games are really fun to play and we are sure with the right theme, you can make this one a star!
Features:
- 24 Levels
- Multiple Elements in Levels: The game has elements like Magnet, Static Balls, Moveable Boxes to make the levels interesting
- Interactive Menu Screen
- Made with Unity Free: You do NOT need PRO license for this project.
- Android + IOS project: Simply switch the project to either Android or IOS and all related plugins would get active
- Multi Device and Multi Platform: Since the game has been made in Unity, you can upload it on all App Stores Unity Supports. Also the gameplay has been tested on Android/ Apple Phone Devices and Tablets.
- Free Royalty free music included: Music can be re-used as it is free for commercial use and distribution.
- Easy to Reskin: Change to any theme you wish easily by simply changing the 2D images.
- Rating Pop Up: Smart Rating pop up to promote higher ratings by users.
- projectd in C#
- 64 Bit Compatible
Important:
Graphics are watermarked
The documentation is included with project to ease out the process of reskin.
Customer Reviews
Thomas
"Upgrade"
Brought old school back in a great way :) :)
waiting for a Upgrade now.
Gracie Goodwin
"Error in Code"
Got total support from the developer in sorting out error along with free Royalty music.
Maddison
"Simple & Good code "
Easy to switch from Android to iOS & very easy to reskin