Sports Game Soccer / Volleyball Game Complete Project
Sports Game Soccer / Volleyball Game Complete Project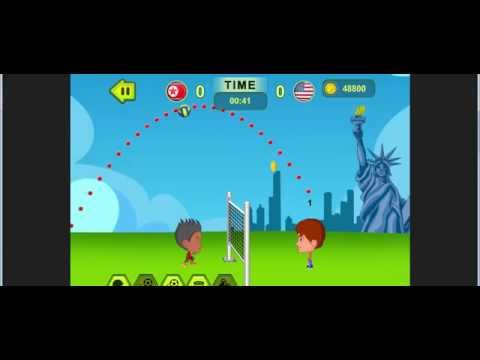 The demand in the sports categories in the app store is never ending. We put up some cool games in the google play store to understand the market and were simply BLOWN away with the response they got.
The biggest surprise was the high number of ECPMS we were generating via chartboost in this category. Normally people don't go with Chartboost on Android, as the ECPM's don't match when compared to the ECPMs on the Apple store. However when we tested Chartboost in the sports category of Android it absolutely Crushed it!
So what's this game all about?
This source code is an absolutely beauty. It's got an excellent gameplay, it's got tons of levels and group matches. There are around 10 teams to unlocks and the game gets tougher as you continue to play.
The Computer Players (AI) is designed in a fashion so that it gradually increases in difficulty and gives the player ample amount of time to get used to the game play.
Reskin Oppurtunities: This code is the holy grail for Reskinners and app flippers. Think if any theme/ sports which revolves around a ball – Soccer/ Football, Tennis, Table Tennis, Volleyball, BaseBall, Beer Pong, phew! Why mention everything – tons of ideas are here http://en.wikipedia.org/wiki/List_of_ball_games
Apart from these games, you could just go crazy with anything theme in the world. How about Zombie Soccer? Santa VS Elves where there are have a snow ball championship on the north pole. The possibilities are just crazy. And OH! Almost forgot – launch these games whenever new tournaments are about to begin for any games – use this can get tons of downloads!.
If the above reasons are not enough to buy this, nothing is.
Still, let me give you some more..
Check out the features :
1) Made in Unity coded in C#.
2) Upload to all platforms which unity supports like Android, Amazon, IOS and tons more
3) Massive Gameplay – Keep the players hooked
4) Easy To Reskin
5) 2D Graphics
6) In- App purchases to buy various cheats
7) About 5 Various cool cheats available for use to buy, and which make the gameplay more fun
8) The Oil Spill Goo Bucker Cheat: Use it to make the surface slippery so the opponent cannot reach the ball on time
9) The Super Head Helmet: Double the size of your head with the helpmet in-app cheat so you don't ever miss the ball
10) The Trajectory in-App: Use it against players to know where their ball would hit, and where you should point your hit.
11) The Trampoline in-app: Give yourself a second life with this cheat. When used the trampoline would come in-place of the ground, so even if you miss hitting the ball, it would give you a second chance by pushing it up.
12) Slow Mo Ball: Opponent too fast. Well let him be: use the slo mo ball option to reduce the speed of the ball drastically. Come hit it after a sip of coffe..
13) Unlock new teams and math venues
14) Every venue has its own unique background images to have a unique design gameplay in every group match
15) Plenty of oppurtunities to show ads in the game without hampering user experience
What you get with this project:
1) Complete code
2) Android and IOS version included
3) Graphics would be watermarked
4) Help Documentation
5) Support from the GameGorillaz team
6) Access to all future updates of this project
Reskin Services:
The documentation is included with project to ease out the process of reskin.
Customer Reviews
Owen Farrell
"In App are good"
Oil Spill Goo Bucker Cheat,Trajectory in-App,Trampoline in-app.. In App like these makes game enjoyable for the user.
Sports Game Soccer
"Cool support and game play "
Easy updates and support available all the time
Got questions about the product? Ask it from the product owner.
* Login Required