Smash The Sharks Complete Project
Smash The Sharks Complete Project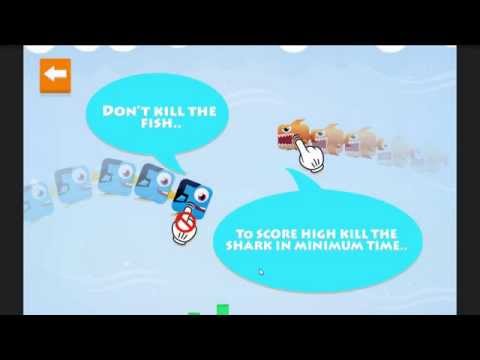 The formulas of successful games might be really simple: less features, easy playing, but cool graphics and addictive gameplay. The project for "Save the fish" is that type! Really simple in nature, this game is always on the high positions! A perfect time killer with awesome gameplay – you will meet a lot of people of different ages playing the games of this type: simple, but addictive time killers. This is the formula! We now represent you the source code, which has been designed specifically for the reskinning.
How does the game keep people playing it for a long time and gets so many download? We always think about it and we came to a decision, that the simple games are easy to play and they work easliy in every smartphone with ease.
Playing "Save the fish", you are supposed to tap the screen to kill the sharks in minimum time. There are also fishes, you need to save them. They sometimes collide with sharks, because they move randomly. You need to be sure not to kill the fishes. Killing one shark gives +5 points. You can play the game in 2 game modes – one mode with timer, another one without the limited time. Kill sharks, save fish, play next level. Awesome time killer!
With such a simple gameplay and quick levels, there will be always a lot of rooms for the ads.
Moving ahead, we will mention cool features of this project:
Simple 2D Graphics, which are very easy to change and reskin;
Made in Unity. You can export the game to Google Play, iOS, Windows and Amazon store as well;
Coded in C# language;
iOS 64 bit compatible;
Supports the majority of devices;
A simple game which can also be played in low end devices;
Rate button;
Endless Game play;
High Score and instruction sections;
Continue game function;
Sound ON/OFF button;
Important:
Graphics are watermarked so just follow the reskin documentation to reskin the project with ease
Customer Reviews
Bethany Blackburn
"Good but the movement .."
It is a good game but the movement cursor lags alot.
Leah Armstrong
"Grindy"
It's a relatively good game... though it's far too grindy.
Got questions about the product? Ask it from the product owner.
* Login Required