Maths Educational Kids Quiz Game
Maths Educational Kids Quiz Game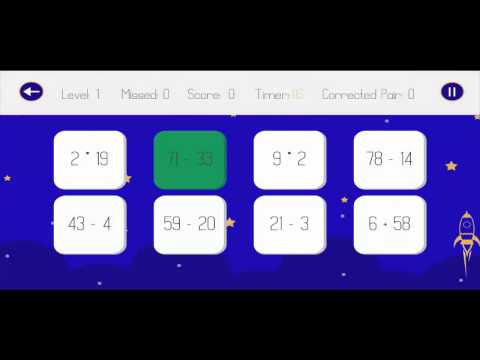 Another educational project is up now, this is another mini maths app/game project. This game will help the little kids and school going children excel maths the easy way and beat the phobia of maths.
Gameplay Features:
This is an endless level based game, the more the correct answers the more the score and hence the level goes up. The tiles have mathematics questions laid out, you got to match the correct calculations. If the calculation matched is correct then the tiles go green else they go red. All the calculations have to be solved in a given time, once the time is over the game also ends and the highest score you made will be displayed.
Also, check out the technical features of this project:
- Made in Unity 2D - can be exported to all stores Unity Supports;
- Compatible with Unity 5
- You do not need Unity Pro License for this project;
- projectd in C# Language;
- The project is bug-free;
- iOS 64 bit compatible;
- iOS 8 and Android Lollipop Compatible;
- Sound ON/OFF button;
- Smart game rating button;
Important:
Graphics are watermarked
The documentation is included with project to ease out the process of reskin.
Customer Reviews
Lance Wise
"Love it!!"
love the way game is designed, proper documentation provided
Darrien Pacheco
"well prepared code "
nicely developed project, well inclusions of Ad banner, error free
Got questions about the product? Ask it from the product owner.
* Login Required