Flappy Bird Family - Unity 2D game
Flappy Bird Family - Unity 2D game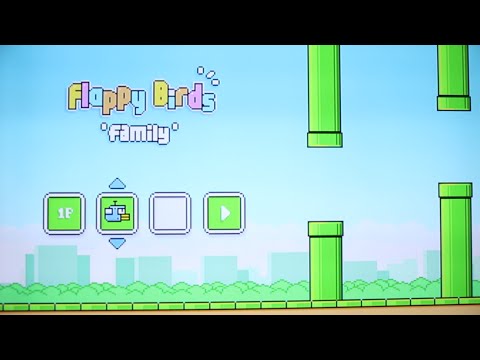 Flappy Bird Family app made in Unity! Game is 2D flying adventure type.
Its updated clone of flappy bird with many new features like new birds, new obstacles and updated graphics and many more!
Game is made in Unity and its available to reskin as you like. In clone there are few new features that app offers than in newer versions, and game is ad ready so you can reskin and publish game to store right away and start making some money.
Ads: Chartboost & Unity Ads implemented.
Game is made in Unity so export to Android and IOS devices is ready to go!
Check Game Trailer: https://youtu.be/dZelix5u0ro?t=58s
Features:
Chartboost & UnityAds
IOS and Android export
Biggest hit game clone in Unity
All scripts can be modified easily
Many presets and Graphics
HD graphics
Game is made in unity so reskinning is easy, comes with all files and stuff! (Game object presets, sprites, codes, settings)
Full codes, all zombie/player animations and textures, +3k resolution for pc, Android/Iphone/Pc export, all runing fast pace.
There are +1000 Assets, more then 500 Sprites(all HD and above), +500 Game objects(players, zombies, bosses, explosions, particles, grounds, mountians)
Game is play and export immeadietly so you can just change settings of game(code is integrated) so only change on inspector tab for easily customization (like player speed, jump, enemy spawning, speed of game, particles, gunshots..
Google play services already added so just change easily in inspector yours leaderboards, achievements and etc, all done already for killing, score etc..
Admob ads and banner integrated already, just change to your domain and thats all.
Menu all done with code, pause menus and etc, gui all customizable, programmed in C# and all code is accessible to modify even more!
Download and test game yourself from google play store to see how it works and its BugFree.
Got questions about the product? Ask it from the product owner.
* Login Required