Escaped Bull- Endless Runner Game – Unity 5.5.3 – Full working source
Escaped Bull- Endless Runner Game – Unity 5.5.3 – Full working source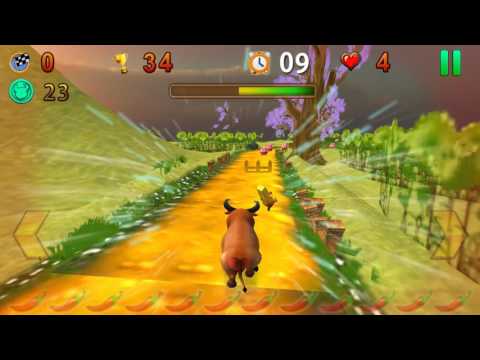 A Bull has escaped from his cage, he in the cage for last 3 years and now he want to RUN! As the nature of a bull, he run endlessly. Find food on his road. Help him to go over obstacles.
How to play:
- Touch left and right to turn him left and right.
- Collect item like time to increase time to run, chilly to make him speed up and smash obstacle.
- Collect the barrel as much as you can to reach high score
- Upgrade him with skin color, new hoof, new horn
- Many support items can be purchase
Demo APK:
https://drive.google.com/file/d/0B8qp8Knwhnd0QTI2VGZXTTlVSnM/view?usp=sharing
Live Demo:
https://youtu.be/cwRlg5HtVt0
- Admob intergrated
- Support Unity 5.5.3
- Easy to re-skin and rebuild with detailed document you just need to change Admob ID and the game is ready to build
​- Require Unity 5.5.3​
- Source come with document to guide you how to change Admob ID and how to re-skin
Customer Reviews
Martin
"One annoying bug + JS code"
| | |
| --- | --- |
| Quality | |
| Value | |
| Price | |
| Quality | |
| Price | |
| Value | |
There is still one bug, which makes game unplayable. Plus the code is in JS (not C#), which is deprecated in latest versions of Unity
Akatsuki
"Excellent source for marketing"
Great source and best support!!!