Dark Thief Character Sprites
Dark Thief Character Sprites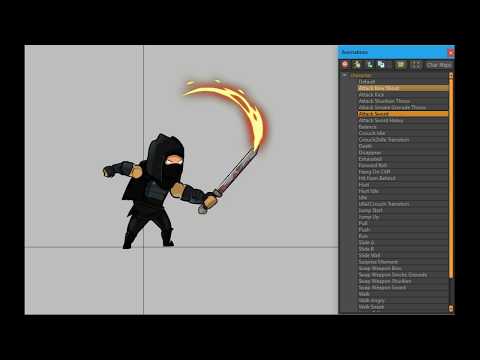 Best for adventure games, platformer, runner, stealth and more !
Key Features:
35+ stunning animations
4 different skins
unique character design
100% vector graphics
animations exported as transparent png sprites and spritesheet
source files for editing and customizing
Extra Information
List of animations:
Attack Bow Shoot
Attack Kick
Attack Shuriken Throw
Attack Smoke Grenade Throw
Attack Sword
Attack Sword Heavy (new since version 1.1)
Edge Balance
Crouch Idle
Crouch-to-Idle
Death
Disappear
Exhausted
Forward Roll
Hang
Hit From Behind
Hurt
Hurt Idle
Idle
Idle-to-Crouch
Jump Fall
Jump On Air
Jump Start
Jump Up
Pull (new since version 1.1)
Push (new since version 1.1)
Run
Slide A
Slide B (new since version 1.1)
Slide Wall (new since version 1.1)
Surprise Moment
Swap Smoke Grenade
Swap Weapon Bow
Swap Weapon Shuriken
Swap Weapon Sword
Silly Monkey Dance (removed in version 1.1)
Walk
Walk Angry
Walk Sneak (new since version 1.1)
Customer Reviews
Daniel
"Good Stuff but Animations are missing"
| | |
| --- | --- |
| Quality | |
| Value | |
| Price | |
| Price | |
| Value | |
| Quality | |
I gave "value" only one star since the download does not contain the animation promised in the description. Basically, all animation marked with " (new since version 1.1) " like Pull, Push or Walk Sneak are missing.
My download still contains the "Silly Monkey Dance" which let me assume that the download is still Version1.

However, Zip file is named "The Black Thief Release 2"

Disappointing - Maybe it is an issue of Gamegorillaz - would be great to still get the promised download.

Got questions about the product? Ask it from the product owner.
* Login Required