Tweet Tweet -iOS and Android Buildbox Template
Tweet Tweet -iOS and Android Buildbox Template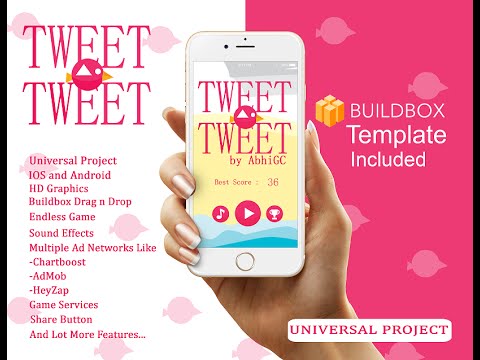 Tweet Tweet –
This game is made in Buildbox (a Drag and Drop game maker). Very easy to edit this game and HD Graphics and simple UI.
This game is based on colour flappy bird.
Buidbox is a true Drag and Drop creating software. Simply import images, assign them properties and move them around your game scene.
In this project you can edit the levels and all the graphics. You can also make your own levels and export your game to different platforms such as Android , iOS, Windows Desktop, Windows Desktop exe, Amazon, Windows Store and OSX.
If you buy the tweet tweet template in a regular licence in a regular mode, you will get Buildbox Project File (.bbdoc)
We try to provide to our client the fastest and easiest template to edit . If you have any question that you want to ask, we will glad to help you.
In this Project you will all the graphics present in the game as PNG files to help you get started. Also you will get links of tutorial videos to help you on certain topics.
You will also get bunch of vector UI elements for your game.
You have a Great Opportunity to make money with this template !
Buildbox support multiple ad networks you can use within your project, also it has a custom ads options but for that you will need a programmer in order to get that working, but famous Ad networks like CHARTBOOST, ADMOB, HEYZAP, PLAYHAVEN and many more you can use in ease.?
With this template you will get BUILDBOX templates that means you can export your game to iOS, OSX, Android, Amazon, Windows PC, and more…
I HOPE YOU WILL LIKE THIS TEMPLATE. IF YOU HAVE ANY QUESTION, WE WILL GLAD TO HELP YOU.
BUILDBOX VERSION : 1.3.5
Export your game to different platforms such as iOS , Android, Windows, and more.....
All the graphics are included as PNG files to help you
Endless Fun!
Multiple AD NETWORKS like ADMOB, CHARTBOOST etc
Share the game with a screenshot of the game field with a custom message via facebook, twitter, whatsapp, gmail…
Review button on the gameover screen
Saves High Scores
Can build with eclipse
Game Services
Very easy to reskin,
Compete with Friends, Family with Game Center Leaderboards
Buildbox Manual- https://www.buildbox.com/manual/
With Buildbox:
Open Buildbox project Replace current sprites with your own
Build and export project.
Without Buildbox:
Change the colours of the sprites used for tiles, backgrounds and the player in the respective source folder.
Rebuild project in eclipse (Android) or Xcode (iOS).