Dragon Adventure + Admob + Buildbox (BBDOC + Android Studio + Eclipse + Xcode)
Dragon Adventure + Admob + Buildbox (BBDOC + Android Studio + Eclipse + Xcode)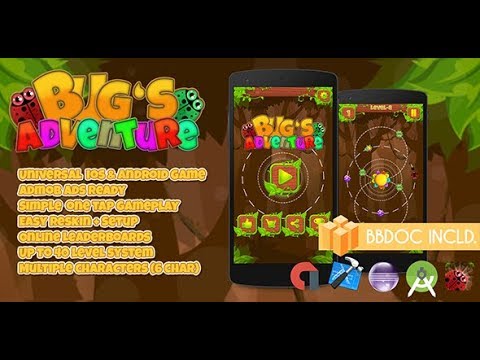 Dragon Adventure Is addictive Game , reach higher score on Dragon Adventure. This game made by buildbox software which have simple one tap game , All Love Flappy Game , Now Available Dragon Adventure which you can play as Dragon and tappy the dragon to fly though fantasy Forest, Collect all fruits and Power ups to get more highscores, beware Bad obstacles like Moving Bomb, Rotating Bomb, Rotating Gear , Moving Fire and many more . suitable for kids , teen and all age . this game are support with android studio and eclipse .
Main Features
Universal (phone & tablet)
AdMob Banner and Interstitial
Share buttons
Rate Button
Review Buttons
Simple Tap Game
Endless Game Mode
Online Leaderboards
Multiple Characters (5 Characters available)
Up To 95+ Levels Random Generate
This File Includes
Dragon Adventure Buildbox Project
Dragon Adventure Eclipse
Dragon Adventure Android Studio
Dragon Adventure IOS Xcode
PNG Icon Dragon Adventures
All Assets Included
Documentation Files
Disclaimer
if You Already Purchase this Items , and you have Problem with my items you must read this before .

If you want to Build APK , You need ?
Download Eclipse


JDK 7 for Your Sistem


Another Important !!
Install API 21 or higher from SDK Manager on ADT Bundle .
If you want to Preview the Game , you can try on Genymotion or Real Device . Do not use Eclipse Emulator .
Tutorial Build APK
Eclipse : https://www.youtube.com/watch?v=WP4He0O7L7o
Android Studio : https://www.youtube.com/watch?v=YpYVdJVYWg0&t=7s
Tutorial Build IOS APP
Extra Information
Thanks You!
Hello There , Thanks For View this Post , and I hope you buy this item and if you need help or want to request game template from me you can contact me . Hope this item make you intrested
Got questions about the product? Ask it from the product owner.
* Login Required