Checkers Game Project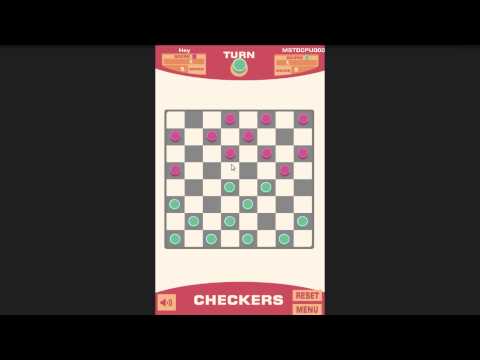 The first thing to say about the project for "Checkers" is that the game is one of the most popular games ever! "Checkers" own this little world!
Checkers gets tons download with any features and variations. This is the best thing about that game! The time doesn't affect this game. Of course it is fine for the players of all ages – even the adolescents can play checkers or easily learn it! The rules of checkers are very simple, but let's describe it quick. The aim is to move marbles to the opposite side before the opponent does so. You can move them to an adjacent spot. You can make a marble jump over another, In the game we have 2 modes: the first is single, so we play against AI, the second one is multiplayer. The multiplayer is extremely challenging: competing with the friends never ends!
People spend a lot of time, playing these short rounds of checkers and run-run-run the game again! These short rounds suggest a great opportunity for monetizing the game with banner ads.
This 2D game is very easy for reskinning: you can change the graphic in no time. Keep in mind, this checkers have been beloved by millions of people for many ages! Checkers will be always fresh! Launch your reskin of it in the App Stores and get lots of downloads!
Here are the features of this code:
Made in Unity – can be exported to all stores Unity Supports;
Made in Unity Free – you need not Unity Pro for this code;
Coded bug-free in C# Language;
iOS 64 bit compatible;
iOS 8 and Android Lollipop Compatible;
Ad networks incorporated: Chartboost for IOS and Admob for Android;
Smart Game Rating button;
Player name change function;
Challenging multiplayer mode;
Checkers competition is eternal!
Important
The graphics in the game would be watermarked.
The documentation is included with project to ease out the process of reskin..
Customer Reviews
Syed Witt
"Worked for Android too "
i was able to port on Android in ONE DAY without changing the graphics :)
Kelby
"Very good, indeed!"
The app is light, doesn't need too much permissions, it's very customisable.. Very good, indeed!