Cannon Ball Bubble Shooter
Cannon Ball Bubble Shooter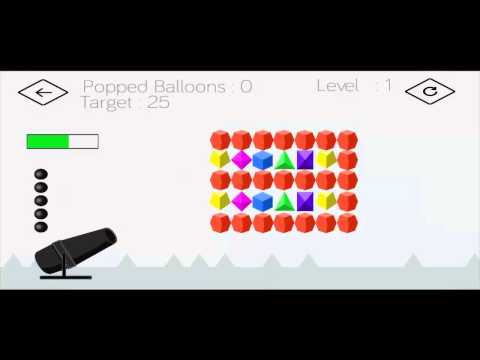 The shooting games are known as the best time killers ever; that's why they are doing so well in the App Stores. Our project is really small and simple, so you can implement new features with no time; it's not a big deal to change the theme and images. The project is a base of a cool game, which can bring you decent revenue! Don't miss this opportunity! Kaboom gameplay is simple enough. The thing you have to do is to shoot the cannon balls from the cannon to hit the colorful gems. There will be 50 levels and the amount of cannon balls depends on the level you are on.
Gameplay
- Your job is to aim properly with the cannon and shoot the gems. The gameplay ends if you will go out of the cannon balls. And for clearing the round, you have to shoot all the gems.
- To make the game more addictive, we implemented different obstacles and power-ups.
- This game is really attractive for a vast target audience. It has a simple gameplay, which can be easily adapted to the theme you choose. You can shoot the birds, monsters etc.
- Change the background, replace cannon and balls – there is no complicated stuff in reskinning, because the project is designed for reskinning specifically.
- In total there are 50 levels in the game.
- Apparently, if you wish to add any more elements to the game and enhance features, you will be able to do that!
Also, check out the technical features of this code:
- Made in Unity 2D - can be exported to all stores Unity Supports;
- Compatible with Unity 4.5.x, 4.6.x,5
- You do not need Unity Pro License for this code;
- Coded in C# Language;
- The code is bug-free;
- iOS 64 bit compatible;
- iOS 8 and Android Lollipop Compatible;
- Sound ON/OFF button;
- Smart game rating button;

Important:
Graphics are watermarked
The documentation is included with project to ease out the process of reskin.
Customer Reviews
Henry Miller
"BOOM!!!!!"
Lovely game with lots of reskinning options and game levels.
Aidan Little
"Lacks in App purchases"
simple gameplay, a good one but does not have any In App purchases..