BOUNCE – iOS Buildbox for RESKIN
BOUNCE – iOS Buildbox for RESKIN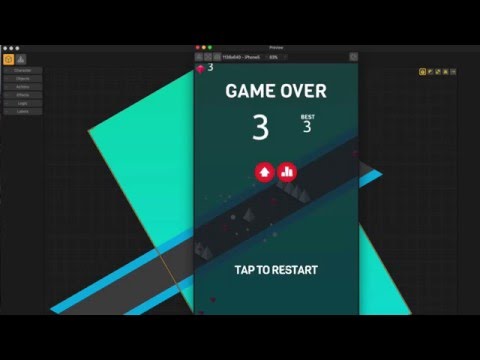 Bounce is a Clone template of very famous Ketchapp Game, It is made with Buildbox and It is very easy to Reskin.
Just change the graphics or use the same ones with your additional graphics and launch it on stores with Buildbox. You will get all the Graphics used in this template and also a pack of UI elements for FREE.
Great Opportunity to make money!
Buildbox support multiple ad networks you can use within your project, also it has a custom ads options but for that you will need a programmer in order to get that working, but famous Ad networks like CHARTBOOST, ADMOB, HEYZAP, PLAYHAVEN and many more you can use in ease.
YOU WILL GET BUILDBOX TEMPLATE THAT MEANS YOU CAN EXPORT THIS GAME TO iOS, OSX, AMAZON, WINDOWS PC, AND MORE…
This project includes Xcode project, Buildbox Template and To help you get started You will get PNG Image files used in this template.
Hope you like this template, Let me know if you have any questions !
Thank you
Buildbox Template Included.
Xcode Project
Endless Levels with UI and other important things to make it complete.
Easy to reskin using Buildbox.
Add Game Center, Share and Review Features.
Ad supported Admob, Chartboost, AppLovin, LeadBolt, Playhaven, Vungle, MoPub, and Revmob advertisement networks.
The BuildBox project will allow you to edit levels and export the game to other platforms such as Android, iOS, Windows Desktop, Windows Desktop EXE, Windows Store, Amazon, and OSX.
From Within Buildbox, You can edit, Reskin the whole template with your theme.
For more information see https://www.buildbox.com/
Extra Information
You can add your favorite ad network and monetize your game within buildbox.
you can also offer In-App Purchases as Remove Ads which is very common and also you can dig more and monetize what your game can offer like buy coins etc.
Got questions about the product? Ask it from the product owner.
* Login Required