Ball Jump Clone - Buildbox Template iOS & Android
Ball Jump Clone - Buildbox Template iOS & Android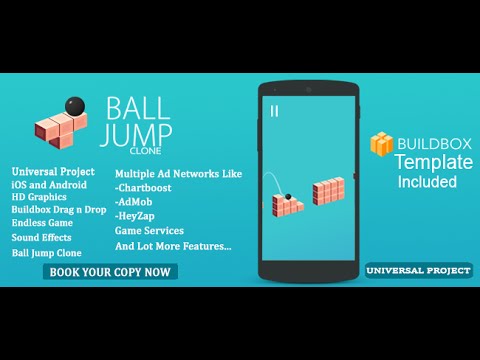 Perfect Ball Jump Clone
Don't miss that trend, buy and upload your game tomorrow to the app stores!
Don't loose your time with useless apps, try this game template and climb the top Charts! The game is simple to play hard to master. The goal of the game is simple jump ball the best you can to make the highscore you can , the game very easy to reskin too!!!
This game is made in Buildbox (a Drag and Drop game maker). Very easy to edit this game.
Buidbox is a true Drag and Drop creating software. Simply import images, assign them properties and move them around your game scene.
Ball jump - control a ball rolling along a narrow path made up of cube blocks. Be careful and jump over pits. Show your great reflexes and try to get record results in this exciting game for Android. Try to guide the little black ball as far as possible along the track. Be ready to make decisions instantly and tap the screen at the right time. After all the track is being built right in front of a moving ball. Jump onto the emerging platforms in time and don't let the ball fall.
You have to tap on screen fast enough to keep your character not fall down gap between cubes? Your path is being built in real time with an existing combination of cubes.
Tap the screen to jump
React quickly and with precision
And don't fall down
Perfect Clone of Ball jump
How far can you get? Enjoy the challenge.
I try to provide to my client the perfect clone in the app industry for the hottest trends today
? Total Game Reskin 3-4 Hours and Upload for Store
? Need help? Full Support by My Amazing Team
? How you are Going Make Money you ask, very easy Don't miss that trend game
BUILDBOX VERSION : 1.3.5
Simple One Touch Gameplay
Perfect Ball Jump Clone
Endless Fun
Universal Project
Export your game to different platforms such as iOS , Android, Windows, and more.....
Multiple AD NETWORKS like ADMOB, CHARTBOOST etc
IAP : remove ads
Share the game with a screen shot of the game field with a custom message via facebook, twitter, whatsapp, gmail…
Review button on the gameover screen
Saves High Scores
Very easy to reskin
Compete with Friends, Family with Game Center Leaderboards
Made with buildbox game engine (http://buildbox.com)
With Buildbox:
Open Buildbox project.
Replace current sprites with your own.
Build and export project.
Without Buildbox
1.Change the colours of the sprites used for tiles, backgrounds and the player in the respective source folder.
2.Rebuild project in eclipse (Android) or Xcode (iOS).