4 Animals - Unity 2D Game Source Code
4 Animals - Unity 2D Game Source Code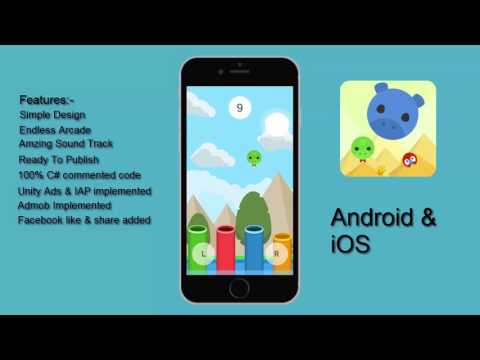 This template is ready for release. It is optimized for mobile (iPhone, iPad, Android, Windows Mobile) standalone (Windows PC and Mac OSX), web player and webGL. Its a simple amazing 2D game. It can give you hours of fun and frustration!

How to play:-
- Tap right or left to move the pipe right or left
- Collect the animal in corresponding pipes
- Earn the points and score

Please rate my file, I'd appreciate it!
Key Features:-
✪ Ready to publish, web, desktop and mobile optimized
✪ 100% commented C# code in details
✪ Scores, and growing difficulty system
✪ Simple sound effects free to use
✪ Social sharing: Facebook share and like implemented , it will help to promote game and Facebook page.
✪ ADS (banner, static full screen interstitial, video ads, rewarded video) Unity Ads and Admob Ads Implemented
✪ IAP - Unity IAP implemented
✪ Raw sprite file included so that you can modify it as your need
Easy to reskin by changing the sprites.